Accommodation in Sardinia
As passionate advocates for Sardinian wine and culture, we want to share with you the best recommendations for accommodations and things to do during your visit to this stunning Mediterranean island. Sardinia is not only known for its exceptional wines, but also for its breath-taking landscapes, pristine beaches, and rich history.
Whether you're planning a wine-focused getaway, a romantic escape, or a family holiday, we have curated a list of top-rated places to stay in Sardinia that offer the perfect blend of comfort, convenience, and authentic Sardinian hospitality. From boutique hotels nestled in charming towns to luxurious resorts overlooking the crystal-clear waters of the Mediterranean, you'll find something to suit your style and budget.
Here are some of our top recommendations:
Where to stay in Sardinia
1. Casa Floris, Quartu Sant'Elena - For the travellers seeking independence and an authentic insight into Sardinian life, this apartment is perfect for you. Situated in Quartu Sant'Elena, 10 minutes from Sardinia's capital city, it's the prime location to explore the rich history, culture, wine and food.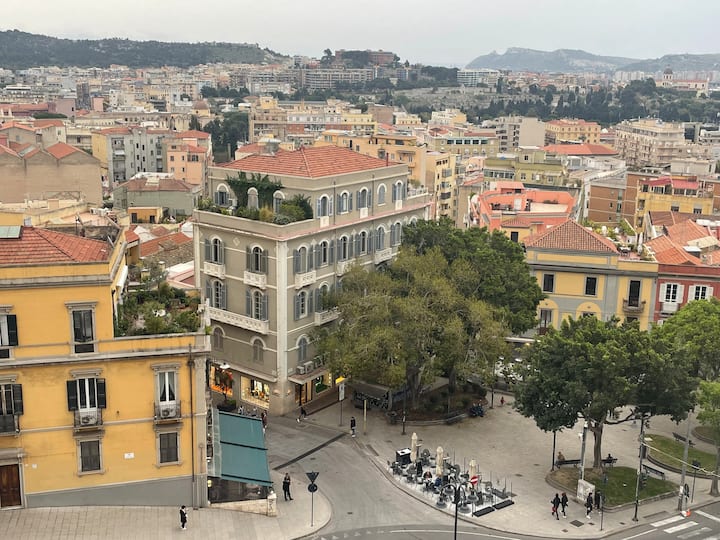 Things to do in Sardinia
Discover Cagliari - The Capital City | Start your Sardinian adventure in Cagliari, the capital city of the island. This bustling city is located on the southern coast and is known for its charming old town, picturesque harbour, and stunning beaches. Explore the narrow streets of Castello, the historic center, and marvel at the medieval buildings, ancient walls, and breath-taking panoramic views of the city and the sea. Don't miss the Cathedral of Santa Maria, the Bastione di Saint Remy, and the Roman Amphitheatre, which are must-visit attractions in Cagliari.

Wine Tasting at Cantine di Dolianova A visit to Sardinia is incomplete without indulging in its famous wines. If you're a Sarda Wines customer then you will be familiar with Cantine di Dolianova, a renowned winery located in the heart of Sardinia, you must visit them for a fascinating wine tour. Learn about the history and production of Sardinian wines, taste the local varietals like Cannonau, Vermentino, and Carignano, and immerse yourself in the rich wine culture of the region. The winery also offers wine and food pairing experiences, making it a perfect destination for wine enthusiasts and foodies alike.

Explore the Bastione di Saint Remy Located in the heart of Cagliari, the Bastione di Saint Remy is a historic landmark that offers breath-taking panoramic views of the city and the surrounding sea. This ancient fortress is a must-visit for history buffs and architecture enthusiasts. Explore the intricate arches, staircases, and terraces, and soak in the stunning vistas of the city and the sea. The bastion also hosts cultural events and exhibitions, adding to its charm and allure.

Relax on Sardinia's Beautiful Beaches Sardinia is famous for its pristine beaches and turquoise waters. Spend some time unwinding on the sandy shores and soaking up the Mediterranean sun. Some of the most popular beaches in Sardinia include Poetto Beach in Cagliari, Spiaggia del Principe in Costa Smeralda, and Cala Mariolu in Baunei. With its crystal-clear waters and picturesque landscapes, Sardinia's beaches are truly a paradise for beach lovers and nature enthusiasts.

Sample Sardinian Cuisine Sardinia's cuisine is a culinary delight that reflects its unique history and culture. Indulge in the local specialties like Porceddu (roasted suckling pig), Culurgiones (traditional Sardinian ravioli), and Sebadas (deep-fried pastries filled with cheese and honey). Visit local markets to taste the fresh produce, cheeses, and cured meats, and enjoy the authentic flavors of Sardinia.
At Sarda Wines, we believe that your stay in Sardinia should be a memorable experience from start to finish. We hope that our recommendations for the best places to stay in Sardinia will help you make the most of your visit to this enchanting island. Cheers to an unforgettable wine and travel adventure in Sardinia!